M468 Assault Rifle
Manufactured:
2007
Industry:
Barret FireArms Manufacturing
Barrel Length:
8.0 inches (200 mm)—16.0 inches (410 mm)
Region of Origin:
United States
Users:
Effective Range:
600 m (point), 800 m (area)
Cartridge:
30-round magazines
Years Actove:

2007-Present

Action:
Piston-Operated
The Barrett REC7 (designation stands for "reliability-enhanced carbine" 2007) is a M4-pattern rifle available in either 5.56 NATO or 6.8 SPC. The REC7 is manufactured by Barrett Firearms Company.
The REC7 is Barrett's second AR-pattern rifle chambered for the 6.8 mm Remington SPC cartridge, the first being the Barrett M468 rifle. The 6.8 SPC-chambered M468 rifle employed the same direct gas-impingement system as the M4. The result was a system that jetted hot gases directly into the rifle's receiver, leading to potential stoppages if regular maintenance and cleaning protocols were overlooked. To enhance potential mechanical reliability, Barrett incorporated a short-stroke, piston-driven system that offers the potential for cleaner and cooler operation than one with direct gas-impingement. Barrett are still selling its limited stock of the M468 but only as an upper receiver kit and not as a complete rifle.
Unlike possible replacements for the M16/M4 such as the now canceled XM8, the REC7 is not an entirely new rifle, instead it is made up of an upper receiver that is attached to a M16/M4 lower receiver and is compatible with many accessories intended for the M16/M4 family. It can also be mated to M16/M4 lower receivers currently in the possession of the US military. The rifle uses a short-stroke gas piston mechanism, unlike the M16 or M4 which use direct impingement.
In addition, the REC7 uses the new 6.8 mm Remington SPC (6.8 × 43 mm) cartridge, a round that is of roughly equivalent length to 5.56 mm ammunition, so it is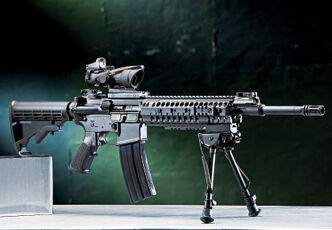 compatible with a standard-size lower receiver currently in use by the United States military. According to Barrett, the new 6.8 mm round boasts 44% more kinetic energy than the 5.56 mm round at ranges of 100 to 200 meters and a longer effective range. The company claims that it is effective at five hundred meters and has a muzzle velocity of 2650 feet per second when fired from a 16 inch barrel.
The REC7 uses a short-stroke gas piston designed by Barrett. It rides above the barrel and is housed inside the fore-end. The spring-loaded piston is a one-piece 17-4 stainless steel rod. The forward and rearward movement of the piston is approximately one inch.
Like many AR-15 type rifles, such as the M16/M4, the barrel is threaded to allow muzzle attachments such as a suppressor; it can also use M16/M4 bayonets on its muzzle, such as the M9 Bayonet or OKC-3S Bayonet.[citation needed] The REC7 employs a free-floated Daniel Defense rail system,[3] which allows many military accessories such as a bipod, night vision devices, and combat optics to be placed on the rifle. The REC7 features forged 7075 aluminum upper and lower receivers that are hard-coat anodized a deep black.[3] The lower receiver has a single-stage trigger, a Magpul enhanced trigger guard for firing with gloves, and a beveled magazine well for rapid magazine changes.[3] The upper receiver is flat-top with a Picatinny rail. The barrel is chrome-lined and is fitted with a M16A2-style birdcage muzzle brake and pistol grip. The stock is a six-position Magpul MOE.
The REC7 cost 681 dollars on Military Fire Arms.Net, making it one of the most expensive rifles on the Internet, mostly due to them being 21st Century tech...